Coronavirus (COVID-19): Services for Australians
The health and safety of Australians overseas is our highest priority and all client services are currently by appointment only.
Please follow these links for more information about consular and passport services in Abu Dhabi or Dubai during this period.
Please see below general information for travellers.
Please follow this link for more information about Visa and Citizenship Services.
For the most recent advice go to Smartraveller.gov.au and the COVID-19 section of this site.
Welcome to the Australian Embassy, UAE
Welcome to the website of the Australian Embassy in the United Arab Emirates which contains a broad range of information on the services the Embassy provides. The information and links on this site are aimed at answering the most commonly asked questions about Australia.
The site covers services for Australian citizens, as well as information on immigration, visas and citizenship. The site also contains links to the Department of Foreign Affairs and Trade and Australian Government websites. These links are designed to assist those looking for information on Trade, Australian culture or Government services.
Australia and the UAE cooperate across a wide range of areas including trade, defence, security, aviation, education and health. You can find out more about the Australia-UAE relationship on the DFAT website. We regularly review and update our website and would welcome feedback from visitors on how it can be improved. For regular updates on our work in the UAE, please follow us on Twitter (@AusAmbUAE), Facebook (@AusEmbUAE) and Instagram (@AusEmbUAE).
What's New?

Expo 2020 Dubai
World Expo is one of the oldest and largest international events, held every five years since 1851, it is a platform for global achievement, innovation, collaboration, and cooperation. Rescheduled to open in October 2021 due to COVID-19, Australia will participate in the next World Expo in Dubai from 1 October 2021 to 31 March 2022.
Expo 2020 will provide an opportunity for Australia to maximise commercial opportunities, attract new investment, access new markets, and strengthen trade with nations around the world. We will also promote Australian fields of expertise, showcase our cultural assets and innovations, and tell the Australian story to the world. Our theme, Blue Sky Dreaming, harnesses the Australian spirit of optimism, innovation, and ideas. The Australian Pavilion will bring a piece of Australia to this global mega event and play host to an exciting and targeted program of events that showcase the best of Australia. For more information please visit Australia at Expo 2020.
Smartraveller
The new Smartraveller website was launched on 21 November 2019 together with a new subscription service. Smartraveller has the latest, authoritative travel advice so you can be informed and prepared about overseas travel.
We encourage you to subscribe as soon as you are thinking about heading overseas. This free service gives you the latest updates to our travel advice and news. You no longer need an account to subscribe or manage your preferences, just an email address.
You can now also choose to receive SMS 'critical alerts' for crises overseas. This service supplements our standard travel advice subscription sent via email. We may choose to send you an SMS 'critical alert' for urgent information in the event of a crisis.
Please note: if you subscribed before 21 November 2019, you'll need to re-subscribe to the new system
Read more about the changes on the Frequently asked questions - changes to registration, subscription and the website page.
Visit www.smartraveller.gov.au to subscribe or connect with Smartraveller on Facebook and Twitter.
Travelling overseas this summer?
Please ensure that your Australian passport has at least six months' validity remaining, as this is an entry requirement for many foreign countries. For information on applying for a passport, visit the Australian Passport Office website.
For passport interview appointments, see Contact Us.
When researching your holiday destination, please visit Smartraveller for the Australian Government's latest travel advice. We strongly encourage you to subscribe to the travel advice so you're well-informed for your trip overseas and notified of any updates to our travel advice and news.
The Australian Embassy is on Facebook and Instagram!
You can now find us on Facebook and Instagram. Make sure you like and follow to find out more about the Australian Embassy in the UAE!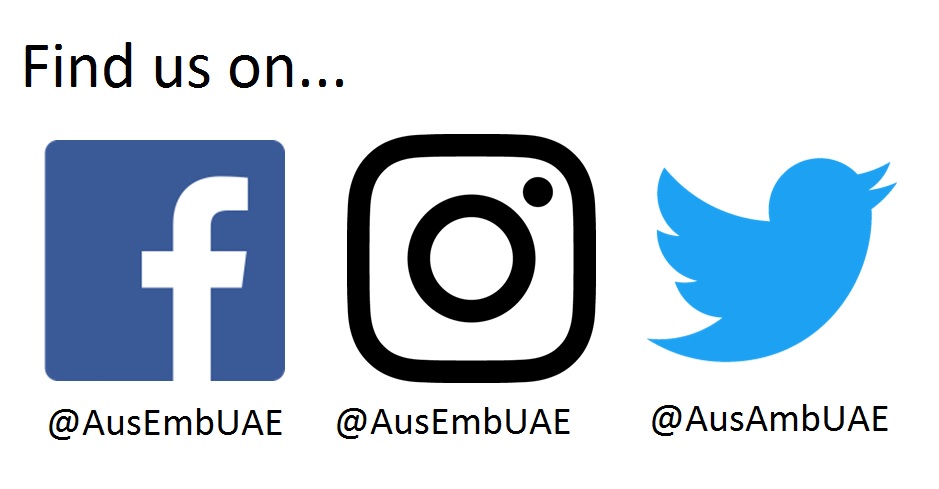 Smartraveller
Be informed and be prepared when you're travelling. Visit the Smartraveller website and subscribe to travel advice updates to be the first to know government information when you are overseas.
Public Holidays - 2022
Monday 03 January - New Year's Day (In lieu)
Wednesday 26 January - Australia Day
Friday 15 April - Good Friday
Monday 18 April - Easter Monday
Monday 02 May - Eid Al-Fitr
Tuesday 03 May - Eid Al-Fitr
Monday 11 July - Eid Al Adha
Tuesday 12 July - Eid Al Adha
Wednesday 13 July - Eid Al Adha
Friday 29 July - Islamic New Year
Friday 02 December - UAE National Day
Monday 26 December - Christmas Day (In lieu)
Tuesday 27 December - Boxing Day (In lieu)
Wednesday 28 December - Additional Holiday