Welcome to the Australian Embassy, UAE

Welcome to the website of the Australian Embassy in the United Arab Emirates which contains a broad range of information on the services the Embassy provides. The information and links on this site are aimed at answering the most commonly asked questions about Australia.
The site covers services for Australian citizens, as well as information on immigration, visas and citizenship. The site also contains links to the Department of Foreign Affairs and Trade and Australian Government websites. These links are designed to assist those looking for information on Trade, Australian culture or Government services.
Australia and the UAE cooperate across a wide range of areas including trade, defence, security, aviation, education and health. You can find out more about the Australia-UAE relationship on the DFAT website. We regularly review and update our website and would welcome feedback from visitors on how it can be improved. For regular updates on our work in the UAE, please follow us on Twitter (@AusAmbUAE), Facebook (@AusEmbUAE) and Instagram (@AusEmbUAE).
What's New?
The Australian Embassy is now on Facebook and Instagram!
You can now find us on Facebook and Instagram. Make sure you like and follow to find out more about the Australian Embassy in the UAE!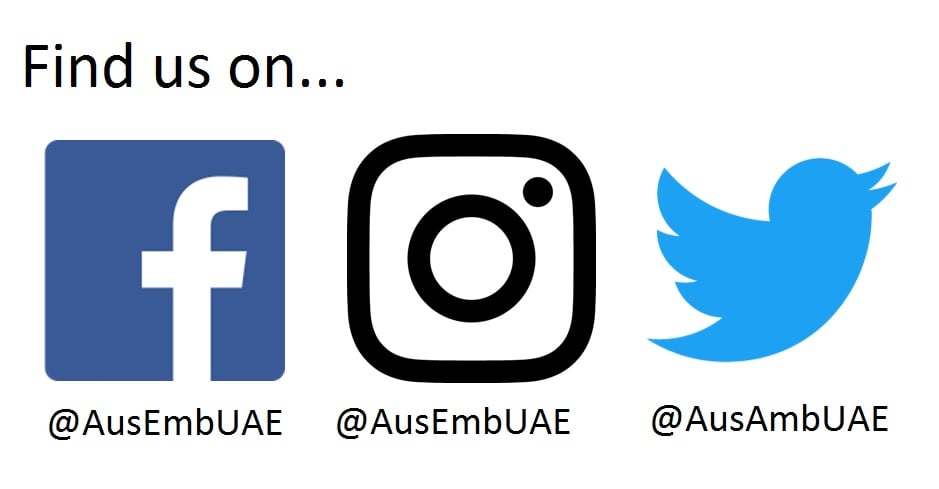 Smartraveller
Be informed and be prepared when you're travelling. Visit the Smartraveller website and subscribe to travel advice updates to be the first to know government information when you are overseas. We also encourage all Australians living in or travelling to the UAE to register their details on Smartraveller. Your registration will help us contact you or your family in the event of an emergency.
Public Holidays
In 2018, the Australian Embassy in Abu Dhabi and the Australian Consulate-General in Dubai will be closed for the following public holidays:
Monday 1 January - New Year's Day
Thursday 1 February - Australia Day (in lieu)
Sunday 1 April - Easter Sunday
Monday 2 April - Easter Monday
Thursday 14 June - Eid Al Fitr #
Sunday 17 June - Eid Al Fitr #
Tuesday 21 August - Eid Al Adha #
Wednesday 22 August - Eid Al Adha #
Thursday 23 August - Eid Al Adha #
Tuesday 11 September - Islamic New Year #
Sunday 2 December - UAE National Day
Tuesday 25 December - Christmas Day
Wednesday 26 December - Boxing Day
Thursday 27 December - Additional holiday
#Subject to change in line with sighting of the moon